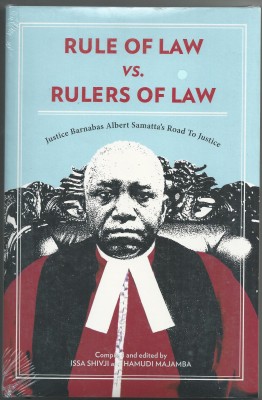 This book reproduces some of the leading judgements written by Justice Samatta. It highlights , in a critical fashion, some of the  high points of his beliefs and observations as embedded in his decisions and speeches
Compiled and edited by Issa Shivji and Hamudi Majamba
Tsh: 30,000/=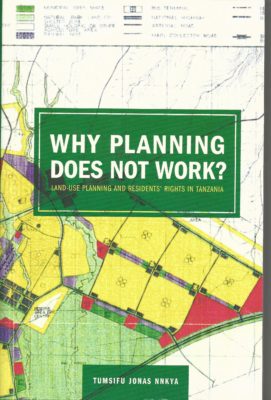 Why planning does not work presents a detailed account of land use planning practice in the context of public land ownership policy in Tanzania, the reader is taken across a terrain of power struggles over land value, between actors in the planing system and residents whose right to participate in the planning process and to protect their land tenure rights , economic interests and socio-cultural values are disregarded
Tsh; 30,000/=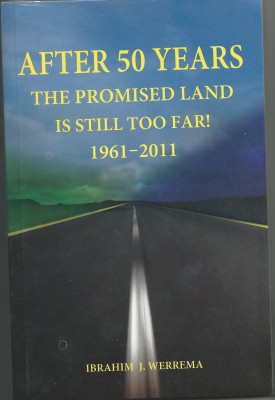 The late J.K. Nyerere was nicknamed "Musa" (Moses) during the later, post- independence years for leading his people from salvery and guiding them toward a free land of prosperity-The Promised Land
Tsh: 20,000/=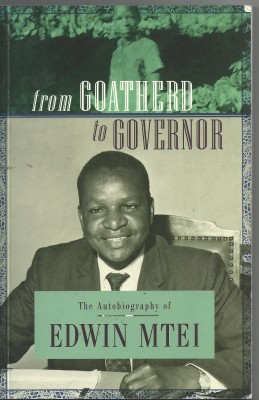 From Goatherd to Governor is Edwin Mtei's autobiography. It is a story of journey a few Africans of his generation made, from humblebeginning to heights of success and power.
Tsh: 25,000/=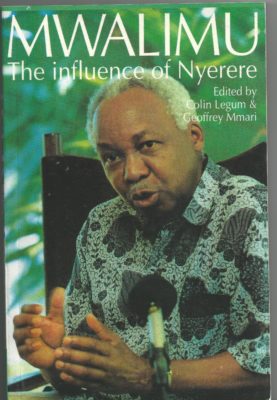 This book reflects  the influential contribution of Julius Nyerere Both within his own country and across the world. it  provides and overview of the man and his thought, also it catches the areas of policy in which Nyerere took a particular interest
Tsh: 20,000/=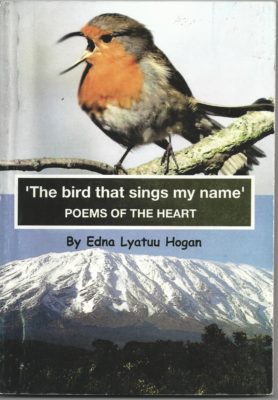 Poems of the Heart is a collection of very well written poems that touches human senses in various way. Edna Lyatuu uses poetry to express thought and feelings by touching every aspect of life
Tsh: 20,000/=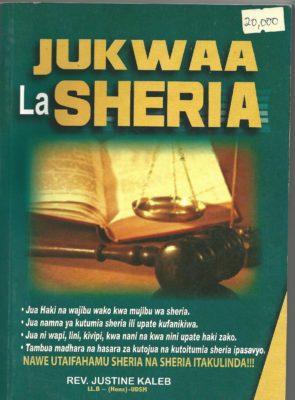 Nawe utaifahamu sheria nayo itakulinda, pata ujuzi na ufahamu wa kutosha katika maswala ya kikatiba , haki za binadamu, sheria za jinai, biashara ,mirathi na ndoausajili na uendeshaji wa biashara mbalimbali n.k
Tsh: 20,000/=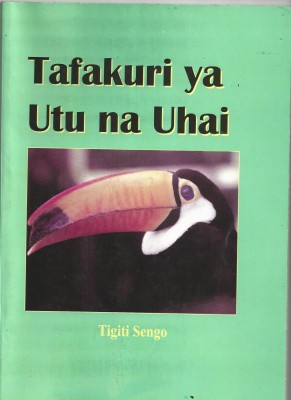 Tafakuru ya utu na Uhai ni kichochezi na kichocheo cha fikra je, ulishajiuliza wewe ni nani? una nini? falsafa yako maishani ni ipi?  unamawazo gani kuhusu nguvu za kazi?
Tsh: 6000/=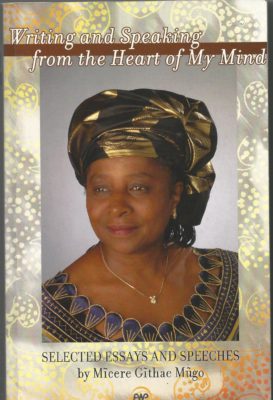 In this collection of essays and speeches, Micere Mugo tackles a variety of fascinating themes that traverse several fields of academic engegment, bringing the pieces together into a single volume.
Tsh; 50,000/=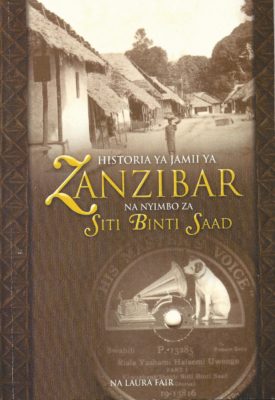 Kitabu cha mwandishi Profesa wa historia-Laura Fair kiitwacho "Historia ya jamii ya Zanzibar na Nyimbo za Siti Binti Saad" kinaelezea historia ya Zanzibar tangu enzi za utumwa hadi sasa ktk kielelezo cha mafanikio na mabadiliko ya kijamii katika muktadha tofauti
Tsh: 10,000/=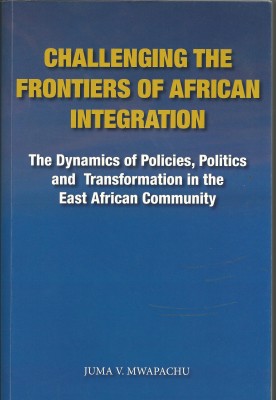 He provides us with important insights into the opportunities and challenges of economic integration from a practitioner, also he spearheaded major policy changes that have deepened integration in the region
Tsh: 42,000/=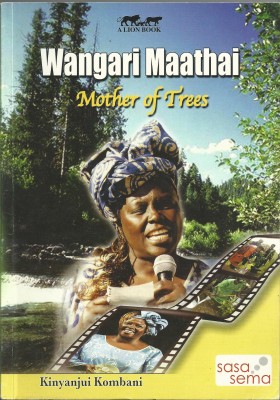 In this enchanting story, three children find themselves in the land of Trees, where they meet Miti, Nobel Peace Prize Winner, Wangari maathai, she explain to them how trees promote peace and provide medicine, oxygen and rain
Tsh: 15,000/=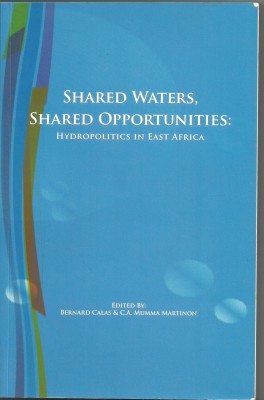 Edited by Bernard Calas & C.A. Mumma
This book present discussions of the issues which underlie the major water crises in the region
Tsh: 25,000/=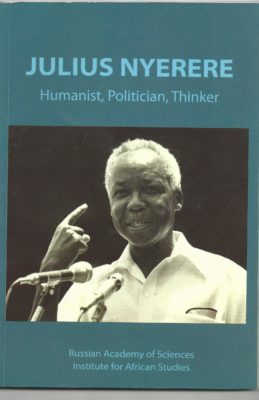 Nyerere is a leader- thinker, whose contribution to the development of the original ujamaa concept, and the experience of independent development is a realy great one. the Nyerere's theoretical concepts reflected the nation's urgent needs: the requirements of farmers, urban workers, the tiny national bourgeoisie and the intellectuals
Tsh: 15,000/=
 By Harith Gassany
Kwaheri Ukoloni Kwaheri Uhuru
Mapinduzi ya Zanzibar ya tarehe 12 Januari 1964 yalipikwa Dares salaam Algeria, na kambi ya Sakura. Kitabu hiki kinazinukuu siri nzito kutoka vinywa vya wazee wenyewe wa mapinduzi kwa mtiririko wa hoja yenye  kusimama juu ya ushahidi kuwa jamii ya kizanzibari yenye mizizi mirefu Zanzibar haikushirikishwa kunako mapinduzi kwa sababu ni jamii yenye uhusiano mkongwe baina ya Waafrika na Waarabu.
Price:50,000/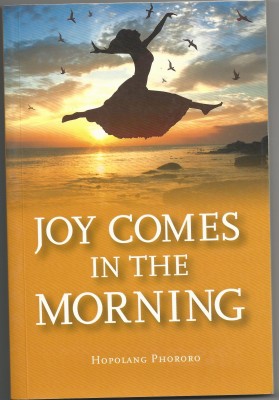 Hopolang was sexually abused by a neighbor and for nineteen years she didn't divulge her experience because she feared that she would be blamed , in this book shares her battle to regain her self-confidence and self -esteem by running into the arms of the one who can heal……
Tsh: 12,000/=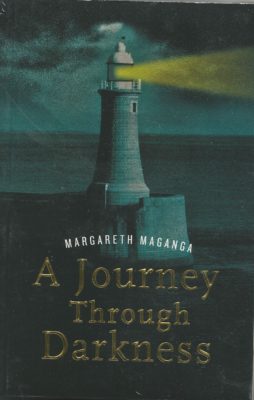 Many of us may live our lives without ever stopping to think What if i couldn't see? We hardly ever ask ourselves this question because we take our eyes for granted. Myself never thought until 11th January 2008,  awaked in the morning and rubbed my eyes, opened them wider and yelled out, " I can't see! that was the beginning  of a long journey through the darknes…
Tsh: 15,000/=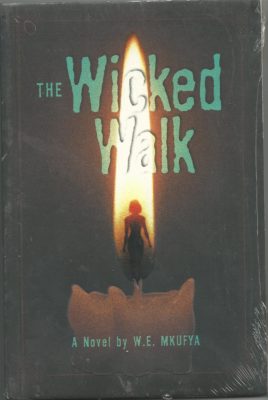 Nancy slaps palms with her friends and laughs a lot. Long after you put down this book you will keep bumping into its characters on the street or at work and find yourself thinking more and more…
Tsh; 10,000/=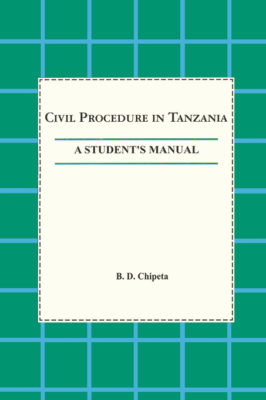 Civil Procedure in Tanzania
A Student's Manual
This book provides a comprehensive outline of the basic principles of civil procedure law, as contained in local statutes and decisions in the High Courts in East Africa. The information is taken from the Tanzanian Civil Procedure Code Act drawn up in 1966 and equivalent statutory provisions in Kenya and Uganda. Case law discussed is based on East African cases, as well as some English and Indian cases, which are an authority in the sub-region. The author is a judge at the High Court of Tanzania
Price: 27,000/=

The Draft Treaty for the Establishment of the East African Community
Scholars at the University of Dar es Salaam conducted an interdisciplinary study on the long awaited treaty of the establishment of the East African Community, which finally came into force in the year 2000. The study engages critically with the limitations of the Community, and highlights areas where much work is still to be done, and also pays tributes to the principles and idealism behind the Community, and some of its achievements thus far.
Price: 4,000/=
ISBN 9789976603668 | 120 pages | 216 x 140 mm | 2002 | Dar es Salaam University Press, Tanzania | Paperback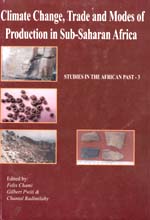 Climate Change, Trade and Modes of Production in Sub-Saharan Africa
Edited by Felix Chami, Gilbert Pwiti
It incorporate new research and perspectives on public-private sector relations and the increasing importance of the local private sector in textbook provision.
Price: 9,000/=
ISBN 9789976603927 | 210 pages | 229 x 152 mm | B/W Illustrations | 2001 | Dar es Salaam University Press, Tanzania | Paperback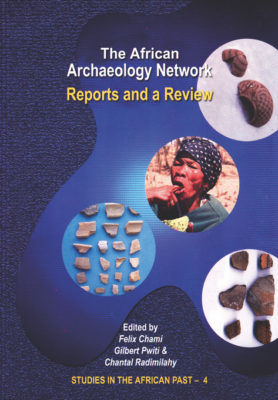 The African Archaeology Network
Reports and a Review
Edited by Felix Chami, Gilbert Pwiti
This is investigating how ancient African societies exploited resources, developed settlements and established long-distance trade networks. A pan-African project, it aims to develop new models to understand how ancient communities adjusted and responded to political and environmental upheavals; and to demonstrate the potential for more research in the different areas of African archaeology.
Price: 18,000/=
ISBN 9789976604085 | 200 pages | 244 x 170 mm | 2005, Tanzania | Paperback
Globalization Demystified-Africa's Possible Development Futures
This succinct and balanced monograph critically examines Africa's integration – or lack thereof – into the global capitalist system. From historical and interdisciplinary perspectives, it considers how encounters between structurally unequal economies and institutions have shaped the
Price;41,000/=
ISBN 9789976604160 | 256 pages | 229 x 152 mm | 2005 | Dar es Salaam University Press, Tanzania | Paperback
Higher Education Reforms in Africa-The University of Dar es Salaam Experience
Edited by Daniel J. Mkude, Matthew L. Luhanga
The purposes of this publication are to record the experiences of the University of Dar es Salaam's reform programmes initiated in the early 1990s' and to present information and the positive aspects of the reform programmes to other African universities or other institutions of higher education in developing countries, so that they may pursue their own programmes without re-inventing the wheel.
Price: 6,000/=
ISBN 9789976603941 | 224 pages | 229 x 152 mm | 2003 | Dar es Salaam University Press, Tanzania | Paperback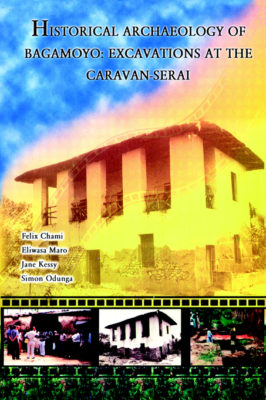 Historical Archaeology of Bagamoyo
The modern history of Bagamoyo begins with the period 1830-1840, when Zanzibar was established as the capital of the Oman Sultanate and subsequently, the slave and ivory trades intensified. However trade and cultural interactions between the coast and the interior had existed before 1800. In 2001, archaeological works began for the first time at caravan-serai in the Bagamoyo historical area. The reasons for the excavation were to provide knowledge about the background and function of the site as a depository for slaves.
Price; 6,000/=
ISBN 9789976604023 | 84 pages | 229 x 152 mm | B/W Illustrations | 2004 | Dar es Salaam University Press, Tanzania | Paperbac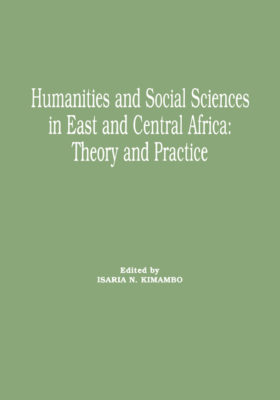 Humanities and Social Sciences in East and Central Africa
This collection of seventeen papers focuses on the processes of social change engendered by the processes of globalisation in the developing world. They critically re-examine concepts and theories that are informing contemporary discourse, which, in the collective opinion of the contributors, is largely a discourse in which people are considered targets; and human processes, strategies and operations.
Price; 15,000/=
ISBN 9789976603811 | 282 pages | 216 x 140 mm | 2003 | Dar es Salaam University Press, Tanzania | Paperback

Mining for Sustainable Development in Tanzania
Kassim Kulindwa, Oswald Mashindano
A study which analyses how macro-economic reforms in Tanzania and the policy instruments applied to achieve the objectives are faring in the mining sector; and assessing the impact of mining on the economy. It examines to what extent the expanding mining activities can ensure a sustainable path for Tanzania; and draws up a policy framework that sets out to steer the economy along a more sustainable development path.
Price: 8,000/=
ISBN 9789976603903 | 187 pages | 229 x 152 mm | 1998 | Dar es Salaam University Press, Tanzania | Paperback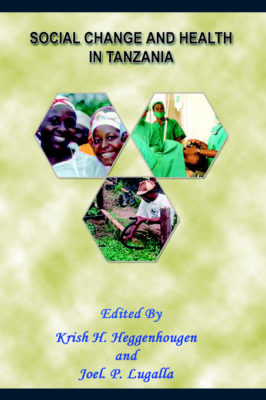 Social Change and Health in Tanzania
Edited by Kris H Heggenhougen, Joe LP. Lugalla
This collection of papers examines the impacts of modern developments on health in Tanzania with a view to establishing patterns at a continental level. The contributors consider how social change is impacting on young people's health, HIV/AIDS and mental health. It further considers the implications of poverty and social inequalities for health, concluding that the poorest suffer the adverse health effects of social change disproportionately; and that the effects of globalisation, if unchecked left, herald severe consequences for the health of poor countries.
Price: 18,000/=
ISBN 9789976604061 | 368 pages | 229 x 152 mm | 2005 | Dar es Salaam University Press, Tanzania | Paperbac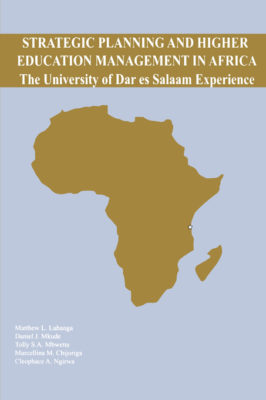 Strategic Planning and Higher Education Management in Africa
Matthew L. Luhanga, Daniel J. Mkude
A book that aims to identify the core problems facing African universities and to examine the potential role of strategic planning in addressing them. It reviews global, regional and national development trends in higher education, and identifies problems within the areas of human resources, organisational culture, physical resources, municipal services, governance, financial resources, and quality and quantity of academic and professional outputs.
Price; 7,000/=
ISBN 9789976603958 | 240 pages | 216 x 140 mm | 2003 | Dar es Salaam University Press, Tanzania | Paperback

Southern Africa and the Swahili World
Edited by Felix Chami, Gilbert Pwiti
The book series aims to disseminate the project's results and stimulate debate on current issues relating to the archaeology of the region, from specific and regional perspectives. The editors present an overview study of the Swahili World, and the excavation of Kaole ruins; and there is a chapter in French on the bi-partition of
Price:12,000/=
ISBN 9789976603675 | 148 pages | 246 x 189 mm | B/W Illustrations and Maps | 2002 | Dar es Salaam University Press, Tanzania | Paperback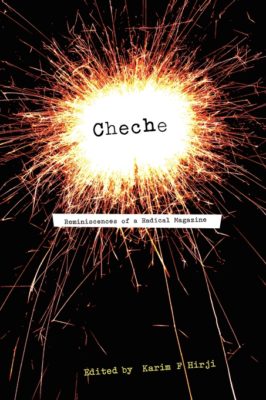 Cheche. Reminiscences of a Radical Magazine
Karim Hirji
Cheche, a radical, socialist student magazine at the University of Dares Salaam, analyses of key societal issues by prominent progressives, it gained national and international recognition in a short while.  The former editors and associates of Cheche revive that salutory episode of student activism in this book with fast-flowing, humor spiced stories, and astute socio-economic analyses. Issues covered include social and technical aspects of low-budget magazine production, travails of student life and activism, contents and philosophy of higher education, socialism in Tanzania, African liberation, gender politics and global affairs.
Price: 24,000/=
ISBN 978-9987-08-098-4
246 pages | 229 x 152 mm
Published 2010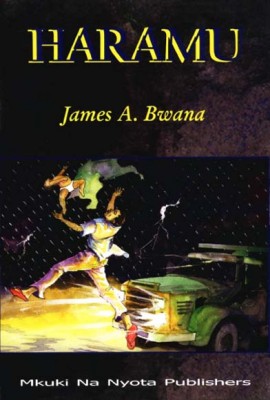 Haramu
By J. A. Bwana
Riwaya ya kusikitisha na kusisimua; ya maisha ya Bahati, mtoto "asiye na haba; mwenye nuksi." Katika kutetea wake anaua. Soma humu kila aina ya mapambani; ufukara, unoevu, UKIMWI na hatima ingojeayo kugunduliwa.
Price; 8,000/=
ISBN 9987-417-08-6
Published 2004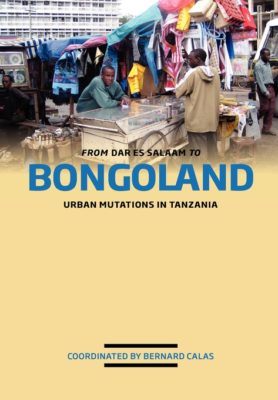 From Dar es Salaam to Bongoland: Urban Mutations in Tanzania
By Bernard Calas
Today, for the Tanzanian, the town has become Bongoland, that is, a place where survival is a matter of cunning and intelligence (bongo means 'brain' in Kiswahili). Far from being an anecdote, this slide into toponomy records the mutations that affect the links that Tanzanians maintain with their principal city and the manner in which it represents them. This book takes into account the changes by departing from the hypothesis that they reveal a process of territorialisation. What are the processes – envisaged as spatial investments – which, by producing exclusivity, demarcations and exclusions, fragment the urban space and its social fabric?
Price;25000/
ISBN 978-9987-08-094-6
430 pages | 229 mm x 152mm
Published 2011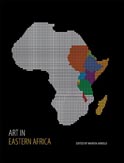 Art in Eastern Africa
M.Arnold (Editor)
the study of African art and its history is limited within the curricula of African schools, universities and art colleges while African art textbooks, designed and produced to address such needs, are virtually non-existent. The study of African art remains a largely Western discipline and African art scholarship, influenced by western sensibilities, is predominantly an expression of western aesthetic responses to African visual culture. This book, initiated in Africa, is the first in a series to address this gap. Bringing together leading artists, designers and scholars from the East Africa region, it illustrates how visually creative people in Eastern Africa expressed themselves in the past through art and artefacts, and how some contemporary artists and designers respond to the world within and beyond Africa.
Price; 42,000/=
ISBN 978-9987-080-10-6
192 pages | 280 x 210 mm
Published 2008
Hardback or Paperback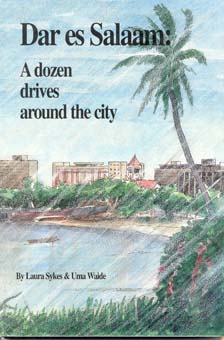 Dar es Salaam: A Dozen Drives Around the City
L. Sykes & U. Waide
This affectionate portrait of Dar es Salaam, in Tanzania, depicts its history and culture through twelve routes through the city, each one representing a different aspect of its character. Through written chiefly for explorers behind the wheel, armchair travellers too will enjoy these drives. Laura Sykes and Uma Waide, residents of Dar es Salaam since 1993, both hope that this guide will act as a trigger, both for long-term residents and newcomers, to discover this fascinating African coastal city for themselves.
Price: 24,000/=
ISBN 9976-973-35-7
Published 1997
Hardback or paperback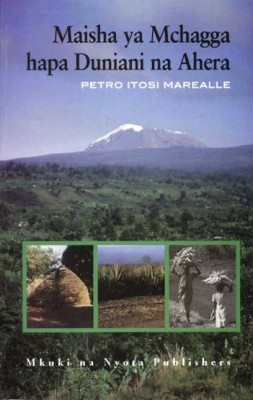 Maisha ya Mchaga Hapa Duniani Na Ahera
By P. I. Marealle
Mangi Petro Itosi Marealle, aliyekuwa Mangi Mwitori wa Vunjo, amewafanyia kabila la Wachagga na wazao wa baadaye, kazi ya maana sana kwa kuandika kitabu hiki juu ya desturi za Wachagga kabla hazijatoweka na kupotea. Alijitolea miaka mingi kujifunza kwa uangalifu mila na desturi hizi, na alipata mashaka katika kutafuta njia ya kukichapa kitabu hiki. Ninafurahi kusema amekwisha pata njia. Natumaini kitabu hiki hakitapendwa na Mchagga tu, lakini kila mmoja atakaye kujifunza maendeleo ya Wana-Adamu, na natumaini kitaamsha Wa-Africa wa makabila mengine kutunga habari za namna hii za watu wao
Price: 10,000/=
ISBN 9976-973-91-8
Published 2002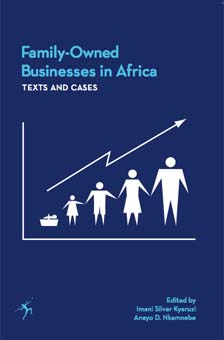 Family – Owned Businesses in Africa
Imani Silver Kyaruzi and Anayo D. Nkamnebe
The role of family–owned businesses (FOBs) and enterprises in African economic and social development can not be over-emphasized. This volume brings together research papers that seek to understand how in the African context family-owned businesses are developed and managed, and what forces are there that are inimical to or supportive of this category of enterprises.
Price;25000/
ISBN 978-9987-08-087-8
Published 2011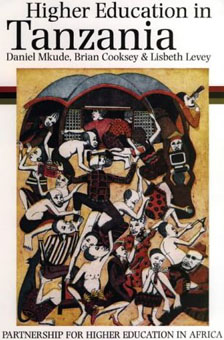 Higher Education in Tanzania
By D. Mkude, B. Cooksey and L. Levey
The Partnership for Higher Education in Africa commissioned case studies of higher education provision in Tanzania, Uganda, Kenya, Mozambique, Nigeria, Ghana and South Africa, as part of its effort to stimulate enlightened, equitable, and knowledge-based national development, and to provide guides to understanding. The University of Dar es Salaam has put in place measures to stop the process of decay and better fulfil its core functions – the unity and commitment within its leadership attracting both government and donors. This text explores the attributes needed to harvest the fruits of the reform.
Price; 24,000/=
ISBN 0-85255-425-7
128 pages | 6.1 x 0.3 x 9.2 inches
Published 2003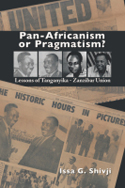 Pan-Africanism or Pragmatism
Lessons of the Tanganyika-Zanzibar Union
The Pan-Africanist debate is back on the historical agenda. The stresses and strains in the union of Tanganyika and Zanzibar since its formation some forty years ago are not showing any sign of abating. Meanwhile, imperialism under new forms and labels continues to bedevil the continent in ever-aggressive, if subtle, ways. It is in this context that the present study is situated. Backgrounding the major dramas of the union of Tanganyika and Zanzibar this book studies the personalities involved and their politics, and includes an account of the Dodoma CCM conference that toppled President Jumbe. It is also a detailed legal analysis of the union incorporating powerful new material.
Price: 24,000/=
ISBN 9789987449996 | 336 pages | 229 x 152 mm | 2008 | Mkuki na Nyota Publishers, Tanzania | Paperback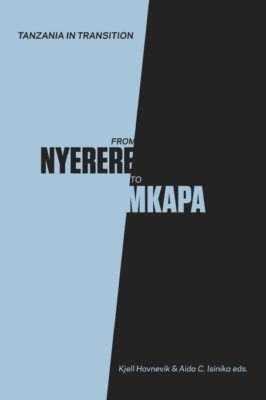 Tanzania in Transition
From Nyerere to Mkapa
Edited by Kjell Havnevik, Aida C. Isinika
This book is the first comprehensive contribution to understanding the character of important societal transitions in Tanzania during Benjamin Mkapa's presidency (1995 2005). The analyses of the trajectory of these transitions are conducted against the background of the development model of Tanzanian's first president, Julius Nyerere (1961 1985), a model with lasting influence on the country. This approach enables an understanding of continuities and discontinuities in Tanzania over time in areas such as development strategy an ideology, agrarian-land, gender and forestry issues, economic liberalization, development assistance, corruption and political change.
Price: 24,000
ISBN 9789987080861 | 306 pages | 229 mm x 152mm | 2010 | Mkuki na Nyota Publishers, Tanzania | Paperback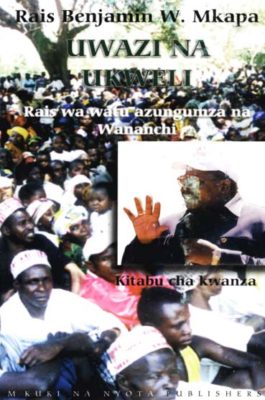 Uwazi na Ukweli Kitabu cha Kwanza
Rais wa Watu Azungumza na Wananchi
Hivyo ndivyo asemavyo, Mheshimiwa Rais Benjam Mkapa katika utangulizi wa kitabu hiki cha kwanza katika mfululizo wa vitabu vya hotuba zake za kila mwisho wa mwezi kwa wananchi. Hotuba hizo ni ufunguo wa uelewa sahihi wa siasa, uchumi na masuala ya jamii katika nchi yetu katika kipindi hiki cha historia. Umoja wa taifa, mshikamano na juhudi za maendeleo yanahitaji kipaumbele maalum katika dunia ya leo ya utandawazi, na Mheshimiwa Rais Mkapa anaeleza kwa ufasaha ni nini tunapaswa kufanya ili tuweze kufanikiwa.
Price; 6,000/=
ISBN 9789987686438 | 126 pages | 207mm x 145mm | 2001 | Mkuki na Nyota Publishers, Tanzania | Paperback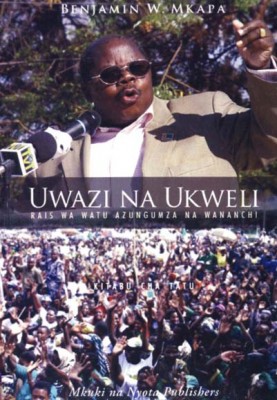 Uwazi na Ukweli Kitabu cha Tatu
Rais wa Watu Azungumza na Wananchi
Hiki ni Kitabu cha Tatu katika mfululizo wa vitabu vya Uwazi na Ukweli vyenye mkusanyo wa hotuba za kila mwisho wa mwezi za Mheshimiwa Rais Benjamin Mkapa anazotoa kwa Taifa. Kitabu hiki kitawafaa Watanzania wote hasa wanapotaka kufuatilia kwa karibu utendaji kazi wa serikali waliyoiweka madarakani. Ni kumbukumbu muhimu kwa maendeleo ya Taifa na Katika Kuelewa masuala ya siasa, jamii na uchumi wa jamii ya Taznania.
Price: 6,000/=
ISBN 9789987417391 | 166 pages | 210mm x 145mm | 2003 | Mkuki na Nyota Publishers, Tanzania | Paperback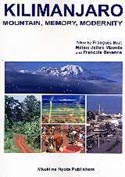 Kilimanjaro. Mountain, Memory, Modernity
Edited by François Bart, Milline Mbonile
Mount Kilimanjaro is one of Tanzania's most consummate symbols. Interest in Mount Kilimanjaro dates back to the nineteenth century, when epic excursions by scientists, explorers and missionaries kindled controversy, envy and unquenchable desire; and the mountain became a prototype of colonial exoticism. Contemporary preoccupations with the mountain as an essential ingredient of national identity and of Tanzania's self-image are in some senses attempts to recapture what has been stolen.
Price:36,000/=
ISBN 9789987417995 | 339 pages | 229 x 152 mm | Colour Photographs | 2006 | Mkuki na Nyota Publishers, Tanzania | Paperback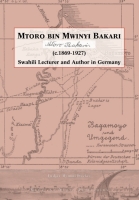 Mtoro bin Mwinyi Bakari
Swahili lecturer and author in Germany
This book presents a study of the life history of Mtoro bin Mwinyi Bakari (c. 1869 – 1927).  The book introduces the wider historical context of his writings, and, in particular, reconstructs the racism and discrimination in both the colonial and metropolitan contexts, features which negatively influenced his career and his life as a whole. The study also offers insights into contributions of the colonized to the study of African languages and cultures during this same historical context.
Price: 18,000/=
ISBN 9789987080083 | 152 pages | 244 x 170 mm | B/W Illustrations | 2009 | Mkuki na Nyota Publishers, TanzaniaPaperback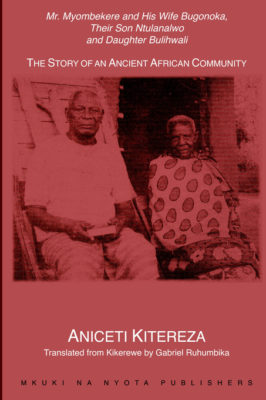 Mr. Myombekere and his Wife Bugonoka, Their Son Ntulanalwo and Daughter Bulihwali
Gabriel Ruhumbika, Aniceti Kitereza
This story unfolds amidst the traditional social and cultural life of the people inhabiting Ukerewe in northern Tanzania. It tells of the lives of Mr Mr Myombekere and his wife Bugonoka whose love survives despite their failure to conceive children in a polygamous society where sterility is stigmatised,  Their actions strengthen their relationship, and they become an exemplary couple in their society, finally rewarded by the birth of a son and daughter.
Price: 30,000/=
ISBN 9789976686388 | 720 pages | 229 x 152 mm | 2002 | Mkuki na Nyota Publishers, Tanzania | Paperback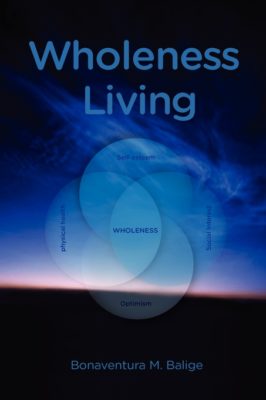 Wholeness Living
By Bonaventura M. Balinge
Wholeness Living is about recognizing the power that exists within us, in others and in the Higher Power. When these powers are in harmony we experience growth in the sense of physical health, high self-esteem, high social interest, and high optimism. Therefore, wholeness living is the openness to the truth about the relationship with the physical self, the psychological self, others and the Higher Power
Price:
ISBN 9789987080885
150 pages | 229 mm x 152mm
Published: 2010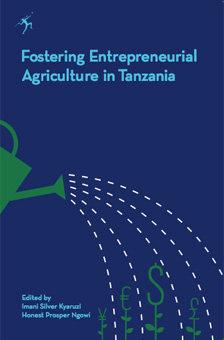 Fostering Entrepreneurial Agriculture in Tanzania
By Imani Silver Kyaruzi
Fostering Entrepreneurial Agriculture in Tanzania investigates the roles of innovative farming and agriculture in Tanzania's agrarian economy. While the recent wave of global economic revolutions have transformed the agricultural and farming industries, Tanzania's economy is still in transition. The transformation toward innovative agriculture is often mentioned but the impact of such changes and the resulting opportunities have rarely been empirically tested.
Price: 24,000/=
ISBN 978-9987-08-075-5
Published 2011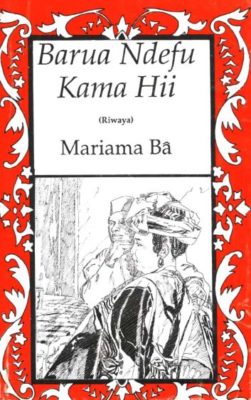 Barua Ndefu Kama Hii
Ramatoulaye, mwanamke Msenegali ameolewa na Mody, mtu mzito serikalini. Baada ya miaka mingi ya ndoa Modu anaoa mke mwingine, msichana mdogo mwenye umri sawa na wa binti yake. Ramatolaye anasahauliwa; pesa na mapenzi vinahamia kwa mke mdogo. Modu anakufa katika ajali ya gari. Nani atakayerithi mali za marehemu? Halafu kuna umati uliokuja kwenye kilio ambao "lazima ulishwe na upewe pesa kwa heshima ya marehemu".
Price: 8,000/=
ISBN 9789976973211 | 122 pages | 200mm x 128mm | 2009 | Mkuki na Nyota Publishers, Tanzania | Paperback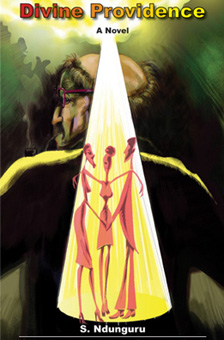 Divine Providence (A-level)
By S. Ndunguru
Prof. Huzley, a world renown scientist, is saved from drowning by a young doctor. In a separate incident the same scientist is saved from kidnappers by the daring action of a young nurse. The two saviors happen to be spouses of a broken marriage and the two incidents happen without each of the separated spouses knowing what the other has done for Prof. Huxley. This is a fast moving and gripping story by the author of A Wreath for Fr Mayer and Spared.
Price: 8,000/=
SBN 978-9976-973-53-2
118 pages
Published 1999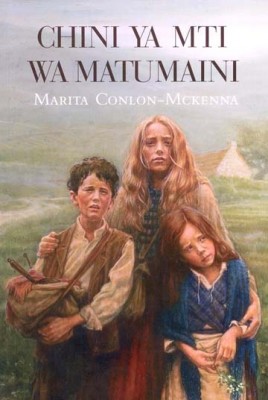 Chini ya Mti wa Matumaini
This is the  first Swahili translation of the classic novel Under the Hawthorn Tree, first published in English in 1990 by the O'Brien Press in Ireland,  during the devastation of the Irish potato famine, brilliantly illustrated through the story of three young sibling survivors. They are cast adrift, as their baby sister dies and is buried under the hawthorn tree – linked with the otherworld in Irish mythology; their father goes to seek work but does not return; their mother goes in search of him, and so the children are alone to fend for themselves. The novel tells of their courageous and arduous journey of hundreds of miles to find their great-aunts heard about in their mother's stories.
Price: 12,000/=
ISBN 9789987080786 | 102 pages | 195mm x 130mm | 2010 | Mkuki na Nyota Publishers, Tanzania | Paperback
Kilio Chetu (TPH) – Kidato cha Nne
By Medical Aid Foundation
Kilio Chetu ni tamthiliya inayovunja ukimya uliotawala miongoni mwa jamii katika kutatua matatizo makubwa ambayo chimbuko lake ni mahusiano ya kijinsia Katika tamthiliya hii vijana wanatoa sauti ya jitimai iliyojaa sononeko na shutuma dhidi ya wazazi, walezi na viongogozi ambao wanafumbia macho suala hili nyeti. Ndiyo maana tamthiliya hii inasisitiza sana haja ya kuwapa vijana elimu juu ya mahusiano ya kijinsia badala ya hofu na vitisho ambavyo vimedhihirika kupitia hali halisi kuwa vimeshindwa.
Price; 6,000/=
SBN 978-9976-10186-7
Published 1995
Maisha Yangu na Baada ya Miaka Hamsini
Athari za kupotea kwa vitabu vya Sheikh Shaaban Robert katika miaka hiyo ni kwamba Watanzania wengi hasa wale wenye umri chini ya miaka thelathini, hawamjui mwandishi huyu maarufu na hawakulelewa katika mazingira ya utajiri wa maandishi yake ambayo bila shaka yoyote ni mfano pekee wa utajiri wa urithi wa utamaduni wetu. Kwa kuvichapisha vitabu vya Marehemeu Sheikh Shaaban Robert tunawakaribisha tena Watanzania, hasa vijana kuvisoma, kuburudishwa na kufunzwa na yale aliyoyaandika kwa sanaa na kipaji adimu.
Price: 6,000/=
ISBN 9789976973167 | 124 pages | 230mm x 147mm | 2003 | Mkuki na Nyota Publishers, Tanzania | Paperback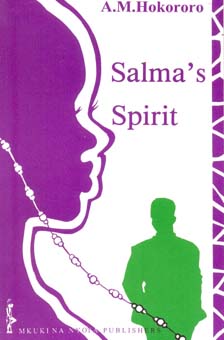 Salma's Spirit
By A. Hokororo
The spiritual world is the backdrop of this fictional account of real events believed to have taken place in Dar es Salaam. A boy meets a girl and the mystery starts. They go to the cinema and dinner, but when the boy calls at the girl's house the next day, he finds that the Salma he was with the night before has been dead for three years. The gripping story unfolds as Salma's ghost spirit appears and disappears making life unbearable for the boy and Salma's father before it is finally calmed and laid to final rest.
Price; 8,000/=
ISBN 9976-973-33-0
135 pages | 7.5 x 4.7 x 0.3 inches Published: 1997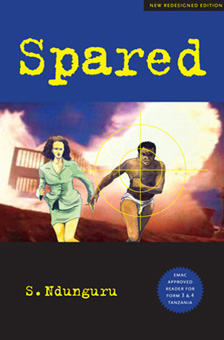 Spared (O-level)
By S. Ndunguru
The story unfolds as Two Tanzanian officials, Tom and Chris, discuss about a forthcoming mission to Sweden. While in Swden, Linda, daughter of a Swedish billionaire, who was in Tom's company, is abducted. To rescuer her one has to try and please two sharp-shooters hidden in a park and in control of two powerful telescopic rifles. Immense wealth, politics and terrorism are at play in the corridors of power. An unforgettable thriller, well crafted and well written by the author of "A Wreath for Fr. Mayer" and "Divine Providence", both used as set books for A-levels in Tanzania.
Price: 7,000/=
ISBN 978-9987-417-04-9
Pages 146
Published: 2004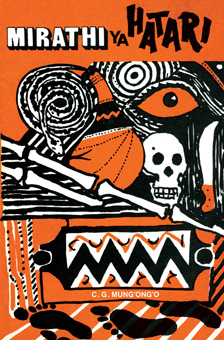 Mirathi ya Hatari
By C.G. Mung'ong'o
Gusto, kijana mdogo wa shule, hakurithi mali ya marehemu baba yake tu, bali pia amerithi tunguri zake, madaraka yake ya kiwanga na mlolongo mzima wa visa, visasi na vinyongo vya baba yake. Urithi huu unamtoa Gusto katika ulimwengu wa wachawi. Hatimaye, baada ya kupambana na vitimbi, hasara na mikasa ya kutisha, inambidi Gusto akate shauri kati ya kuyatekeleza matakwa ya marehemu baba yake na kuyatimiza matakwa ya dhamiri yake binafsi na ya jumuiya yake inayotafuta maendeleo ya kisasa. Mvutano unaotokea unakiuka uwezo wake alioupata shuleni, na kutisha kumrarua vipande vipandeŠ
Price: 8,000/=
ISBN 978-9976-1-0245-1
Published 2010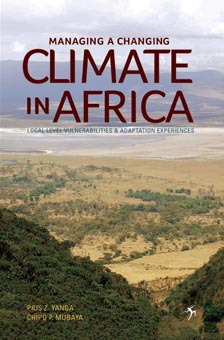 Managing a Changing Climate in Africa: Local Level Vulnerabilities and Adaptation Experiences
By Pius Zebhe Yanda, Chipo Plaxedes Mubaya
There is sufficient evidence to support the fact that climate change is occurring and that this is set to accelerate. While some scholars argue that climate change is largely due to natural changes, others postulate that anthropogenic factors are the major cause. This book presents research findings and case studies with the endeavour to inform policies geared towards addressing problems emanating from these changes. Climate variability raises concerns over the future of agriculture, conditions of land and water availability.
Price; 30,000/=
ISBN 9987-686-45-1
223 pages | 250 x 160 mm
Published 1998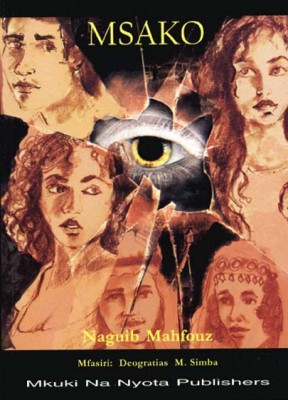 Msako
Hii ni tafsiri ya kitabu, Al-Tariq, riwaya ya mwandishi maarufu wa Misri Naguib Mahfouz, raia wa Misri (1911 – 2006) iliyoandikwa katika lugha ya Kiarabu. Kwa kipindi cha miaka sabini, aliandika riwaya hamsini, hadithi fupifupi mia tatu na hamsini na tamthilia tano. Alitunukiwa tuzo ya Nobel ya Fasihi mwaka 1988 akawa Mwafrika wa kwanza kupata tuzo hiyo.
Price: 6,000/=
ISBN 9789987686674 | 148 pages | 200mm x 145mm | 2004 | Mkuki na Nyota Publishers, Tanzania | Paperback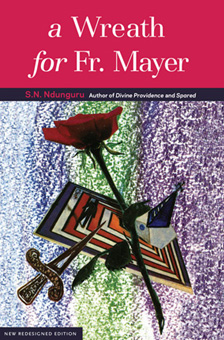 A Wreath for Father Meyer (O-Level)
By S. Ndunguru
Mysterious events unfold at the catholic mission in Masasi. A cholera epidemic, a murder and a priest determine to get to the bottom of it all. What is the role of dreams and the sixth sense in solving these mysteries?
Price: 8,000/=
SBN 9976-973-34-9
Pages 17 | 7.6 x 4.9 x 0.4 inches Published: 1997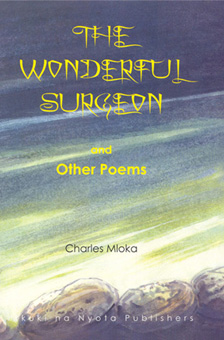 The Wonderful Surgeon
By Charles Mloka
A collection of poems and culmination of innovative thought, borne out of a fertile imagination, driven and motivated by a careful analysis of African life and a great concern for African literature. It presents an oblique way of looking at life.
Price: 8,000/=
ISBN 9987-417-40-X
Published: 2007

With more than one hundred larger mammal and other species, some of them endangered, Uganda is one of the countries in Africa with a high wildlife profile. There are 10 national parks and several wildlife reserves, all teeming with wildlife. Animals of Uganda is a handy guide to the common animals you are likely to encounter during your visit/stay in the country
Price; 12,000/=

This book celebrates Uganda's rich and diverse culture. It takes the reader through the popular dances from northern, eastern, central and southern regions explaining the origins of the dances, the music and the movements- which apparently very much reflect the physical terrain of the areas they come from. The book provides an invaluable colourful journey through Uganda's culture
Price;9,000/=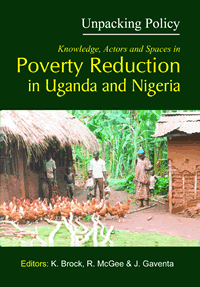 Edited by K. Brock, R. McGee & J. Gaventa. This book presents the findings from a research project carried out by a team of researchers based in the UK, Uganda and Nigeria. Using examples from Uganda and Nigeria, it sets out to examine the processes by which policies for poverty reduction are made and implemented and assesses the scope policies provided for positive change in the lives of poor people
Price: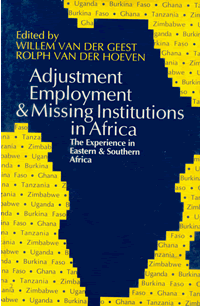 Adjustment, Employment and Missing Institutions in Africa:The Experience in Eastern and Southern Africa
[1999
Price: 34,000/=
Banking In Africa: The Impact of Financial Sector Reform Since Independence
[1998]
Price;28,000/=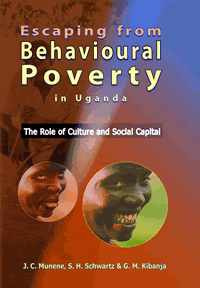 Escaping From of Behavioural Poverty in Uganda
[2005
This book takes a social psychological perspective, focusing on how an individual's behaviour plays a major role in either bringing or escaping povert
Price: 15,000/=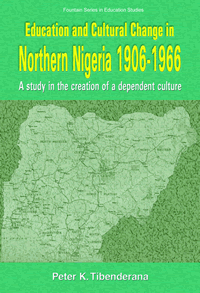 Education And Cultural Change In Northern Nigeria
[2003]
Price:12,000/=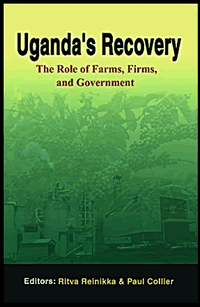 Uganda's Recovery: The Role of Farms, Firms and Government
[2001]
Price;20,000/=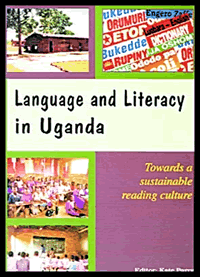 Language and Literacy in Uganda: Towards a sustainable reading culture
[2000
Price; 5,000/=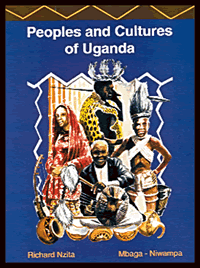 Peoples and Cultures of Uganda
[1993]
Price: 19,500/=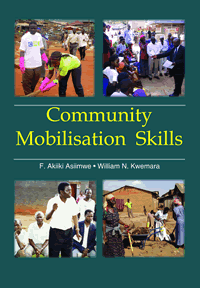 Community Mobilisation Skills
[2007]
This book is a well researched and fi eld-tested manual on community mobilisation and community participation in the development strategies that districts are designing in the political context of decentralisation. It is limited to decisions and activities that occur at the community level
Price: 5,000/=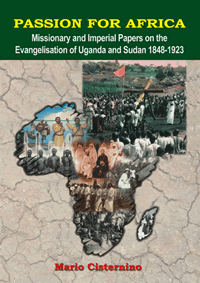 Passion for Africa:
Missionary and Imperial Papers on the Evangelisation of Uganda and Sudan, 1848-1923[2005]
This book analyses the fi rst encounter between the Nile populations on one side and the fi rst missionary colonisers on the other. The author aims at giving dignity to heroic deeds but also at uncovering vested interests and historical lies
Price:25,000/=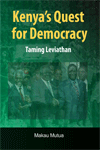 Kenya's Quest for Democracy:
Taming Leviathan.
Tracing the trajectory of postcolonial politics, Makau Mutua maps political forces that have shaped contemporary Kenya. He also critically explores efforts on the part of both civil society and the political opposition to reform the state. He uses the struggle over constitutional reform as a window for understanding the larger the larger struggles confronting Kenyan society.
Price;20000/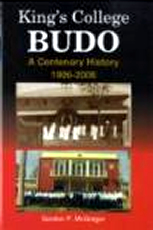 King's College Budo: A Centenary History 1906-2006[2006]
This work traces the history and evolution of one of East Africa's most prestigious schools through the first 100 years of its existence. Written from an insider perspective, it traces the development of the school from its missionary roots, through its place in the Kingdom of Buganda, to the widening of the admissions policy to accept pupils from all areas of Uganda and beyond, and finally, the shift to co-education.'
Price: 20,000/=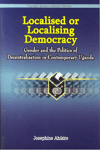 Localised or Localising Democracy: Gender and the Politics of Decentralisation in Contemporary Uganda
[2007
Price: 12,000/=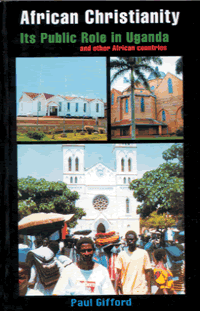 African Christianity: Its Public Role in Uganda and other countries[1999]
Price: 10,000/=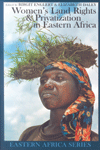 This volume focuses on the impact on womens' land rights from the contemporary drive towards the formulation and implementation of land tenure reforms which aim primarily at the private registration of land. It is all solidly grounded in the findings from seven case studies, all based on in depth qualitative research from various regions of Tanzania, Kenya, Uganda and Rwanda.
25,000/=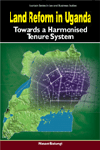 Land Reform in Uganda: Towards a Harmonised Tenure System
This is a case study of the land policies that were used by the British colonial administration to formalize customary tenure into several quasi-freehold and leasehold tenure systems. Different land reform paradigms are discussed and their relevance to the Uganda situation examined with a view to selecting the most appropriate land reform model that could be used to harmonise the existing systems into uniform tenure
Price:15,000/=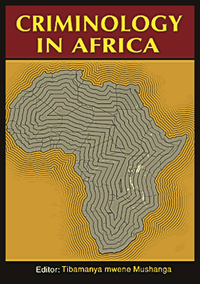 Criminology in Africa[2004]
Price; 18,000/=
Building The Nation & Other Poems[2000]
Price;7,000/=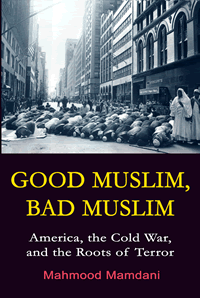 Good Muslim, Bad Muslim: America, the Cold War & the Roots of Terror
[2004]
This book is a provocative and important book that will profoundly challenges the reader's understanding both of Islamist politics and the way America is perceived in the world today
Price: 20,000/=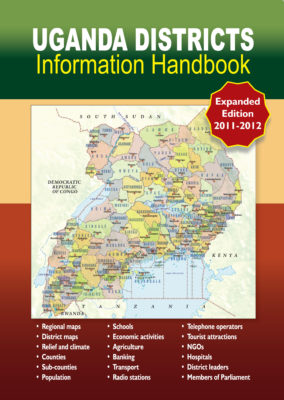 This is an expanded edition of the regular Uganda Districts Information Handbook. The handbook provides detailed information on all the 112 districts in a condensed form. While many users found information in previous editions very useful, this expanded edition is more comprehensive and user friendly. In this edition, detailed colour maps have been introduced for each district.
Price: 20,000/=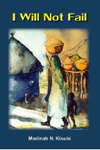 Price:12000/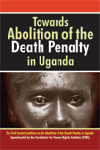 This is the first ever comprehensive and scholarly book that has been written specifically on the subject of the death penalty in Uganda. It encompasses a variety of subjects, including the international and regional standards on the death penalty, landmark judicial challenges to capital punishment as well as looking into the historical background of the death penalty in Uganda itself
Price:10,000/=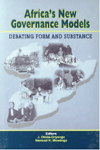 Africa's New Governance Models: Debating Form and Substance
The form and substance of Africa's new models of governance continue to generate intense debates. As democracy, multiparty politics and constitutional reform have become part of accepted political vocabulary in the last two decades, their interpretation and even their true meaning to ordinary citizens around the continent are contested. Its this contestation which forms the basis of this book
Price:15000/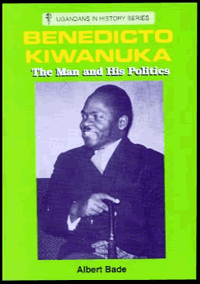 Benedicto Kiwanuka : The Man and His Politics
[1997] BACK LIST
One of the Uganda in History Series
Price: 10,000/=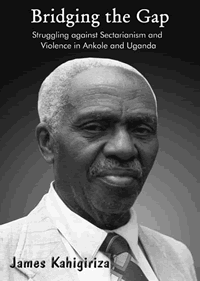 Bridging the Gap (Struggling Against Sectarianism & Violence in Ankole and Uganda)[2001] 2001 84pp
Price:15000/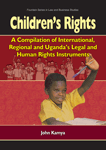 This book attempts to trace the development of systematic protection of the rights of children through legal instruments, starting with the Geneva Declaration on the Rights of the Child (1924), and on the United Nations Declaration on the Rights of the child (1959), which paved the way for the United Nations Convention on the Rights of the child (1989). Students, judiciary officials, court officials, children's rights activists, implementers and practitioners of children's rights and anyone else interested in children's rights will find this book useful
Price: 15,000/=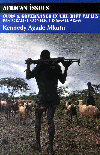 Guns and Governance in the Rift Valley: Pastoralist Conflict and Small Arms Small arms dominate conflicts in Africa.
More people die in wars in Africa than any other continent. In cattle raids the AK 47 has replaced the spear. This book tackles three braod questions; – Why are there so many small arms circulating in North-East Africa? – How does the circulation of small arms affect the peace of countries? – Are states failing to govern?
Price:20,000/=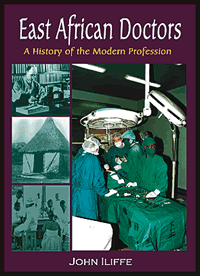 East African Doctors: A History of the Modern Profession[2002]
Price: 15,000/=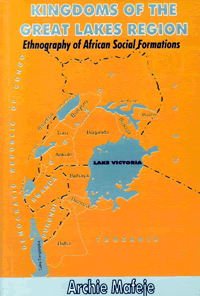 A History of Education in East Africa[2001] by Jc Ssekamwa & S.M.E Lugumba 
2001
186pp
Price: 15,000/=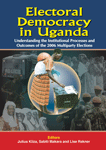 Electoral Democracy in Uganda: Understanding the Institutional processes and outcomes of the 2006 Multiparty Elections
This book analyses the institutionalization of the democratic practice in the country with reference to the 2006 elections. It examines four key institutions that should ideally secure democratic governance- The Parliament, The Electoral Commission (EC), The Judiciary, and political parties. To present a comprehensive analysis of the key players of the electoral process, the book also has chapters on the roles of women, civil society, the media and security agencies in the 2006 elections
Price: 20,000/=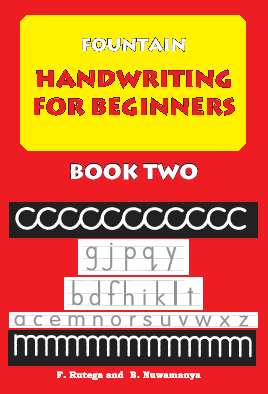 This is a book designed to introduce learners to writing for the first time. Its in a series of six books, which are divided into two sets. The first set has four books and the second two. The books in the first set contain exercises and practice patt erns intended to equip the learners with the basic skills for writing. The second set of books enable learners to develop their handwriting skill by learning how lett ers are joined to form words in the cursive style.
Price: 4,000/=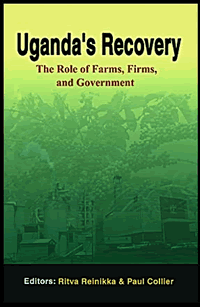 Uganda's Recovery: The Role of Farms, Firms and Government[2001]
Price: 20,000/=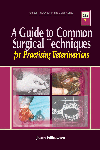 A Guide to Common Surgical Techniques for Practicing Veterinarians
This is the seventh and last of the series of publications of selected material sponsored by i@mak project and is targeted at district extension workers and farmers of Uganda. This book is not aimed at replacing a textbook. It is assumed that the field veterinarian is equipped with concepts of asepsis and antisepsis, instrumentation, suture materials and techniques, wound healing and supportive measures
Price: 15,000/=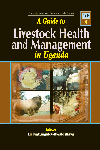 A Guide to Livestock Health and Management in Uganda
This is the fourth in the series of publications and it deals with Livestock Health and Management: Differential Diagnosis and Management of common diseases of cattle as well as Goat Health Management.
Price: 15,000/=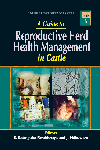 A Guide to Reproductive Herd Health Management in Cattle
This is the sixth of a series of publications and deals with Reproductive Health: Reproductive Herd Health in Cattle; Beef Production Management; and Management of Mastitis.
Price: 15,000/=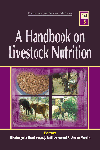 A Handbook on Livestock Nutrition
This is the fifth of a series of publications and is targeted at district extension workers and farmers of Uganda. This book deals with Livestock Nutrition: Feeds and Feeding of Ruminants and Pigs; Body Condition Scoring (BCS); and Body Weight Estimation.
Price: 15,000/=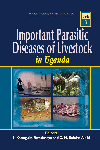 Important Parasitic Diseases of Livestock in Uganda
This is the third in the series of publications and it deals with livestock diseases in Uganda: Control and Management of ticks and tick-borne diseases; Control and Management of Worm infection in Domestic Ruminants; as well as Differential Diagnosis, Treatment and Control of Animal Trypanosomiasis in Uganda.
Price: 15,000/=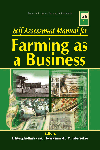 Self Assessment Guide for Farming as a Business[2008]
This is the first of a series of publications of selected materials and is targeted at district extension workers and farmers in Uganda. The book deals with farming as a busines: Assessing yourself, Your farm and goals, Record keeping, Financial reporting, marketing, as well as management and microfinance.
Price: 15,000/=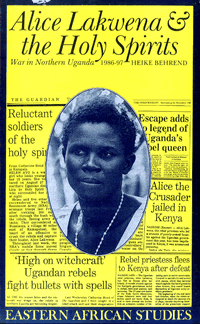 Alice Lakwena & The Holy Spirits: War in Northern Uganda 1986 – 1987 
[1986 – 1997]
Price: 39,000/=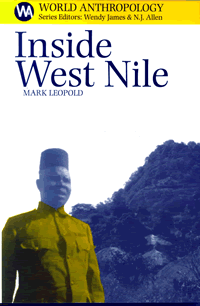 Inside West Nile [2005]
Edited by Wendy James & N.J. Allen
This book contributes to the current debates in political anthropology on issues such as border areas, the local state, and the nature of the 'post-colonial'. It will be of interest to historians, political scientists, literary and cultural critics, and others working on questions of violence, narrative and memor
Price: 21,500/=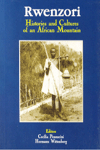 Rwenzori: Histories and Cultures of an African Mountain
Price: 20,000/=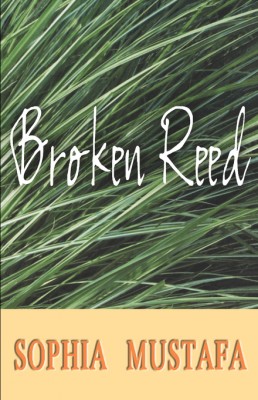 Broken Reed
The completed novel is an affecting tale of confinement, love and the urge of freedom taking place during a sensitive and traumatic historical period. The protagonist, Nureen, is a Muslim woman of great spirits and personal independence, who experiences and survives the emotional turmoil of Indian independence, a transplanted upbringing in Africa, and an imposed arranged marriage to a Pakistani cousin.
Price: 18,000/=
ISBN 9789987411177 | 344 pages | 216 x 140 mm | 2005 | E & D Ltd., Tanzania | Paperback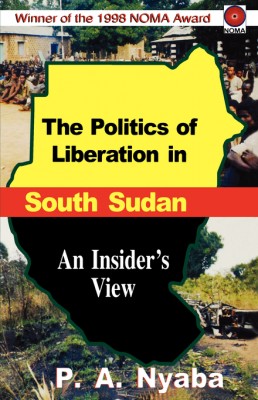 The Politics of Liberation in South Sudan
Winner of the Noma Award for Publishing in Africa 1998.
The process of liberation in south Sudan has been rocky since 1955. Successive governments in Khartoum have broken promises and agreements relating to governance of the south, and the northern establishment has manipulated the situation to perpetuate northern hegemony, and to speed up the process of Islamisation in the south. This study from an activist in the politics of liberation in the south addresses relevant issues such as the objectives of the armed struggle, and the reasons for so long a struggle
Price:10,000/=
ISBN 9789970021024 | 240 pages | 216 x 140 mm | B/W Illustrations | 1997 | Fountain Publishers, Uganda | Paperback
The Story of the Crow and the Frog
The story of how an old, slow frog challenges a young, strong crow to a race – and wins. The old frog, with the help of a bright young female frog, rallies his fellow frogs, and together they devise a scheme to beat the crow. Their efforts result in frogs and crows, old and young, and the strong and weak achieving greater respect for one another. Imaginative and humorous colour drawings accompany the text.
Price: 5,500/=
ISBN 9789987686414 | 20 pages | 100 x 100 mm | Colour Illustrations | 2003 | Mkuki na Nyota Publishers, Tanzania | Paperback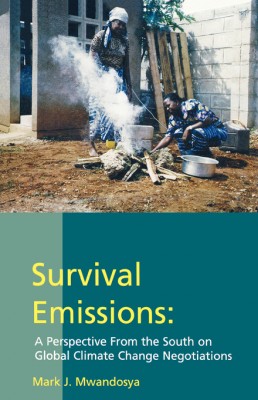 Survival Emissions
A Perspective From the South on Global Climate Change Negotiations
The Kyoto Protocol to the United Nations Framework Convention on Climate Change took place in December 1997. He here gives the background information on the negotiations and his own insights on the issues, with the objective of providing a personal but very much southern perspective on the current global climate change debate. There is a focus on the unity of the group and the importance of linking climate change negotiations with the development agenda.
Price: 8,000/=
ISBN 9789976603132 | 200 pages | 216 x 140 mm | 1999 | Centre for Energy, Environmental Science & Technology, Tanzania | Paperback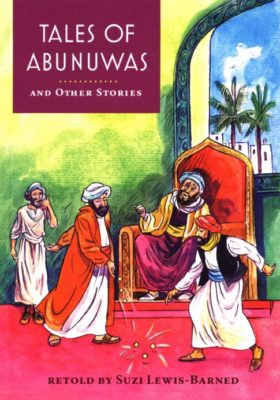 Tales of Abunuwas and Other Stories
Tales of Abunuwas and Other Stories are translations of Hadithi za Abunuwasi na Hadithi Nyingine, from Swahili into English by John Lewis-Barned and retold here by his daughter Suzi Lewis-Barned. The stories were first published in 1935. Abunuwas (or Abu Nawas) tales are loved by young and old readers alike throughout the world and on the East African coast which has had centuries old contacts with Arab traders and Islamic scholars. Hadithi za Abunuwasi have become an integral part of Swahili literature.
Price: 12,000/=
ISBN 9789987080434 | 132 pages | 247mm x 175mm | Colour Illustrations | 2010 | Mkuki na Nyota Publishers, Tanzania | Paperbac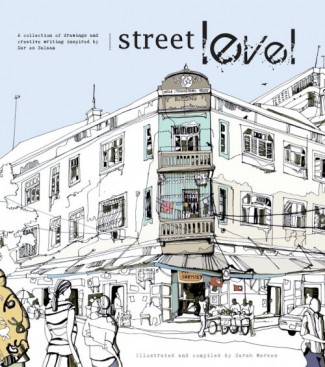 Street Level
Drawings and Creative Writing Inspired by the Cultural and Architectural Heritage of Dar es Salaam
Street Level was selected as 2012 Honor Book for Older Readers by the Children's Africana Book Award program, affiliated with the African Studies Association.
The introduction to this extraordinarily beautifully illustrated book gives a fascinating overview of the history and architectural heritage of Dar es Salaam, and an insight into the efforts of those seeking to preserve it. The book captures 'fragments of the atmosphere, the sun bleached charm and the dynamic energy' of Dar es Salaam. An important part of the book is short pieces of prose and poetry by some of the best creative writers in Dar today.
Price: 48,000/=.
View some of the illustrations online here.
ISBN 9789987081172 | 152 pages | 270 x 140mm | Colour Illustrations | 2011 | Mkuki na Nyota Publishers, Tanzania | Paperback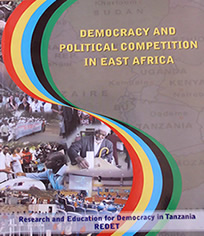 Democraticy and Political Competition in East Africa
This Book is a product of intellectual discourses at regional level, whose objective is to share experiences, collectively interrogate given orthodoxy and promote a regional political dialogue within the spirit of East Africa Cooperation. It Covers a wide range of issues under the main theme of Democracy and Political Competition in East Africa
By REDET
Price:42,000/
Rai ya Jenerali
Rai ya Jenerali ni mkusanyko wa makala zilizochapishwa kwenye gazeti la Rai kitambo kidogo, kwa sasa zimechapishwa kuwa kitabu kinachosawiri mwenendo wetu wa kujitawala na kuendesha masuala ya kitaifa yaliyoibuliwa na kufanyiwa uchambuzi wa kina na Mchambuzi mahiri Jenerali Ulimwengu!
Jenerali Ulimwengu
Price: 10,000/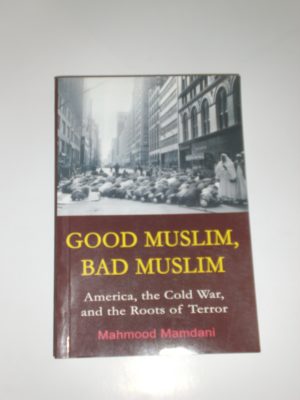 Good Muslim Bad Muslim
In this brilliant look at the rise of political Islam the distinguished political scientist and anthropologist Mahmood Mamdani brings his expertise and insight to bear on a question many Americans and people elsewhere have been asking . This book argues that political islam emerged as the result of a morden encounter with western power, and that the terrorist movement at the centre of Islamist politics is an even more recent phenomenon
Mahmood Mamdani
Price: 25,000/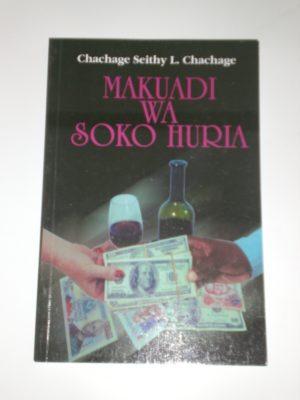 Makuadi wa Soko Huria
Makuhadi wa soko huria ni hadithi ya kihistoria yenye kutoa taswira  ya mapambano ya Watanzania akatika kujipatia uhuru na amali zake, mapambano dhidi ya ukoloni na hatimaye dhidi ya baadhi ya watu wao walioteka nyara uhuru wa wengi na kushirikiana na wageni kupora rasilimali  ya nchi kwa kisingizio cha soko huria. Inaweka bayana uozo na udhalimu uliojificha katika mfumo wa soko huria.
Chachage Seithy L. Chachage
Price: 19,000/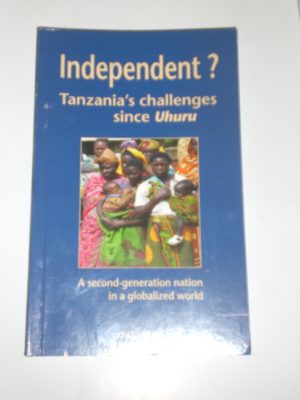 Independence? Tanzania Challenges since Uhuru
This is an attempt to describe the history and challenges facing Tanzania since Uhuru through the voices and memories of Tanzanians who are old enough to remember, still active active enough to take part in society and still with visions and ideas about the challenges Tanzania faces today.
Knud Vilby
Price:18,000/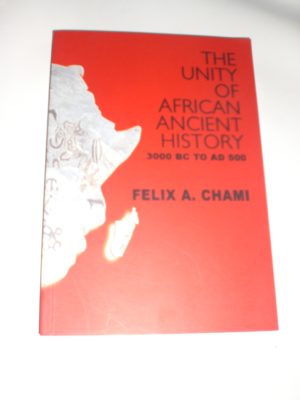 The Unit of African Ancient History
This book is a critique of what the author terms "Colonial and neo-colonial African History" . Following in the footsteps of African scholars, its shows contours of ancient cultural and trade links between various people and polities of Ancient Africa
Felix A. Chami
Price: 24,000/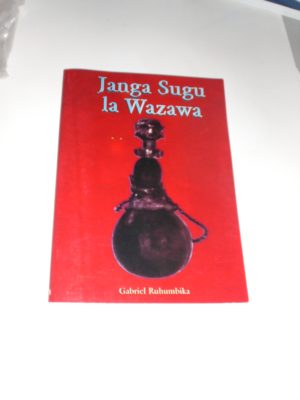 Janga Sugu la Wazawa
Hatimaye kila mahali kote nchini wananchi wakaogopa zaidi hilo janga sugu la jamii duniani. Kuliko radi na tetemeko la ardhi na mafuriko ya maji na maafa mengine ya asili. Hilo janga kuu sugu  la jamii ya mtu mweusi likawa tishio kubwa kwa uhai wa binadamu na usalama wakekote nchini Tanzania kuliko hata mauaji ya halaiki, kwani kwa sasa liliua halaiki kwa halaiki za watu wakati wote
Gabriel Ruhumbika
Price:10,000/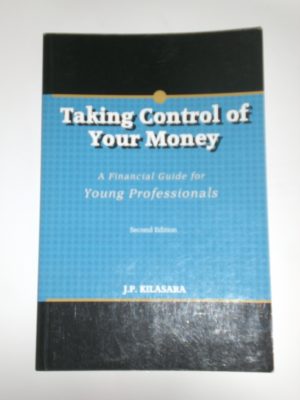 Taking Control of Your Money
Most  young professionals finds money management to be a challenging task as they enter into a world where they have to find independence in all aspects of life " Taking Control of Your Money" focuses on the step by step process of organizing personal financial goals and finding ways to achieve them
J.P.Kilasara
Price:18,000/