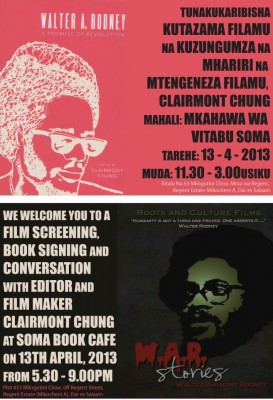 Dear Friends an fans of Soma
We have the pleasure to share with you Clairmont Chung's revisiting the life and work of Walter Anthony Rodney, a pan-African historian and activist who worked and became part of the 1970s vibrant debates on Africa's liberation at the University of Dar es salaam.
This is beautifully done in two pieces of work: a book collection and a documentary film, putting together reminiscences of people shared and got inspired by  Rodney's thoughts and passion for the total liberation of Africa and the Caribbean, starting with decolonizing the mind; titled: Walter A. Rodney:A Promise of Revolution and W. A. R. Stories.
We are kindly inviting you to a film screening and book signing by its editor on 13th April at Soma Book Cafe.
Best regards