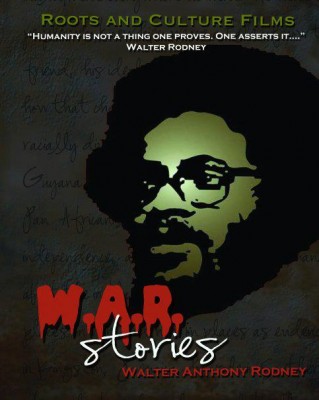 To be launched in Dar Es Salaaam at the Mwalimu Nyerere Intellectual Festival, limited copies of "Walter Rodney: A Promise of Revolution" authored Clairmont Chung are available for sale at Soma Book Cafe, Plot No 53 Mlingotini Close Regent Street, in Regent Estate Mikocheni A. We will also have an exhibition table during the launch at the Festival  where you may get your copy and have it autographed by the author. Later on 13th April, 2013, you are  invited to be our guest at the screening Walter Anthony Rodney (W.A. R.) Stories at the Caribbean Kitchen located within Soma Book Cafe. The program starts at 5.30 with music, poetry and fun… leading to the viewing of a 90 minutes documentary followed by a conversation with the author and film producer.
About the book  and the documentary film:  they are both 'a moving and insightful portrait of Rodney through the words of academics, writers, artists, and political activists who knew him intimately or felt his influence.' They bear witness to Walter Rodney charismatic and revolutionary ideas and  demonstrate why he 'is such a widely admired figure throughout the world, especially in poor countries and among oppressed peoples everywhere.'
Walter Rodney taught at the University of Dar Es Salaam in the 1970s and was among the vibrant professors who made great contribution to the revolutionary views and intellectual rigour that existed at the 'Hill' in those years…. whether you knew him and his works then or know of him through his works… including his ground breaking " How Europe Underdeveloped Africa", which was authored while he was still at the Hill, you will find his portrayal by Clairmont Chung invigorating.

'Rodney: A Promise of Revolution'… Book Launch and Film Screening at Soma Book Cafe on 13th April, 2013