Welcome to somabookcafe.com the official website for Soma (otherwise known as E&D Readership and Development Agency).
Here you will get everything about Soma , join the discussion and help us promote a reading culture in Tanzania.
Our website represents our commitment to informing, connecting, and engaging with the reading community (and would be readers) of Tanzania and beyond.
With this website we hope to achieve the following functional and aesthetic objectives:
As a readership promotion and networking platform;
As  communication and public feedback tool;
As a knowledge and information source;
As a place to share and enjoy a good read; and
As a platform for literary discourse.
How to use this website
Homepage:
Here you will get the latest news from Soma and its affiliates, from acquisition of a new inventory in the Bookshop, announcement of forthcoming and reports of just passed events held at or facilitated by Soma, with links to membership based programs and those meant for the general public; mouth watering menu from the  Café and soon to open Caribbean Restaurant; and other ongoing and newly introduced products and services. The home page can be reached from anywhere in the site by clicking the Soma logo or the "HOME" link in the navigation bar.

Our online Google calendar showing our forthcoming events is also found here. Please subscribe to the calendar to get regular updates directly to your email.
Also available is a Google Map showing the location of Soma Book Café.
Another feature is the Notice. Here you will find important events either forthcoming or that need immediate attention of our friends and stakeholders.
The sidebar:
You will find a highlighted products or service bar on the home page.

The yellow section of the sidebar is consistent throughout the site, it includes a Search bar, Recent comments and social  connections.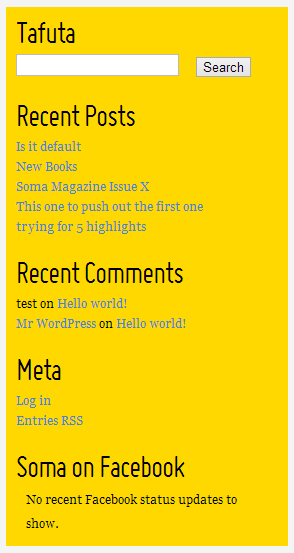 Links:
Throughout the site there are links that can be found either by the color blue text, underlined when hovered.
Articles:
News articles can be followed from the homepage to their own pages where they can be read in full. At the end of the article you will find comments from other users to that article. You are welcome to get involved in the discussion. We only ask that you stay focused on topic and courteous to your fellow commenters.
Social:
With the introduction of this website we are also launching our official Soma Page here. Please like it.
Contacts:
Get directly in touch with us using the email form on this page. You can also use other methods outlined in this page.
We are always updating the design and therefore would like to hear from you with suggestions and critique. Our contacts page has all the ways you can reach us.